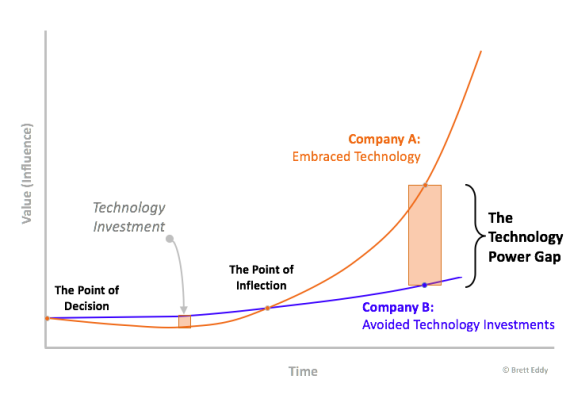 The divide is growing around us daily.  Companies, individuals, whole economies are thriving because of or declining due to an essential force in our modern society.  This force is Technology and the observable result is The Technology Power Gap.
The Technology Power Gap is the evidence shown by the corporate winners and losers.  By the widening separation of the information "haves" and "have nots".  And more often than not, by the dozens of KPIs that are informing the success of resilient companies and the demise of unchanging ones.
Technology has advanced to the degree that it is no longer optional to make investments. Only in certain very isolated sectors can a company of any size get away with stale technology budgets. For the rest of us, we must be aware of this incredible tidal wave of change and seek to understand that force that can propel us to great heights or leave us a wreck on perilous shores.
My call to action is for leaders, investors, and boards to demand that a Strategic Technology Plan be put in place, complete with budgets and milestones and executive buy-in, to become a shining example of Company A in the above graph.
If the expertise does not live in house, acquire it by forging relationships with experienced individuals and experts.  Just as CEOs can no longer ignore the power of virtualization (i.e. "the cloud"), marketing automation, and search engine automation ("SEO"), they can no longer ignore the essential components of a strategic roadmap where Technology is NOT represented.   This is not about a nice to have – this is about the survival and expansion of the company.  The CEO that embraces this call will thrive.  The CEO that ignores it will perish.
How does one go about evaluating their place in the Technology Power Gap?  Through a series of diagnostics that evaluates:
Your Internal Forces
Your External Realities
Your Market Adaptation
Your Unique Technology Opportunities
Your Cultural Commitment
To learn more, contact Brett Eddy and begin a dialogue to make lasting change.