Executive with Deep Technology Experience: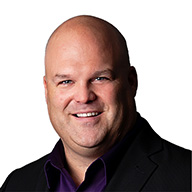 Seasoned executive known for revenue growth, mobile product development, building and running highly functional teams:

"I enjoy helping companies win.  In today's complex world where technology is the differentiator AND the underpinning of any company, it is critical that the modern competitive team stays on top of innovation.  Technology has the ability to catapult revenues – but successful companies have to protect the core value proposition while simultaneously building for the future.  This may include mobile and cloud development offering, or it may include strategic M&A.  It may require organizational changes to embrace the new challenges.  But in all ways – it requires active leadership and effective business and executive acumen. 
I am able to "talk business" and "speak geek" fluently and am as comfortable in the board room working on corporate strategy as I am leading cross functional development teams, both domestic and abroad.  I am passionate about technology and leading technical people, from incubations to stable growth industries.  Mobile is eating the world – and this is where I am deploying the majority of my energy. 

If I can be of help to your organization, please drop me a line. 
Mobile app + cloud development and emerging technology incubation:
"Driving the next generation of interface and disruptive platforms to maximize revenue." 
Technology strategy consulting and leadership:
"Dependable leadership, advisement, and directing of technology projects and services; trusted advisor to customers and dynamic addition to any executive team."
 Web Strategy, User Experience, Social Networking consulting services:
""Leveraging the right technology to achieve the right objectives; harness the groundswell."
User-focused design:
"Software design for real people, leveraging Personas, Use Cases, and User-Focused Interaction Design.  Never a science project."
Information architecture analysis and design:
"Simple visualization for complex problems to achieve the holy grail: out motto should be 'it just works'."
Toolkit & Experience:
Twenty plus years experience in technology leadership and software development. Business development acumen brought to every project.
Revenue growth through smart content marketing, multi-channel marketing, and big-data  analysis:
Salesforce, Pardot, Marketo CRM + Content Marketing, Business Social Media Campaigns
Market driven SEO with organic and paid strategies
Business intelligence for executive dashboards and M&A decision making
Global marketing and revenue acquisition, with human sales effort and automated, frictionless sales strategies
Rich history in creating software, guiding development and directing production operations teams:
Cloud (virtual), SaaS, eCommerce, Web Applications, Traditional Web 2.0, Web 3.0, platform & semantic sites
Mobile web, iOS, Android, and fully portable, consume anywhere technology strategies
Rich web application ecosystem including front-end, public facing and backend, back-office client functionality within integrated suite
Managed Code, Client Server, Retail, thin-client applications
Consumer-facing web services
B2B 3-tiered web applications
Deep software usability experience:
Heuristic evaluations and cognitive walkthroughs
Focus Groups
Formal laboratory usability studies
Ad-hoc on-site usability evaluations
Persona Development
Sound experience directing large, complex software projects with distributed teams:
Local creative and development talent
International development teams (India, Eastern Europe, Latin & South America)
Directing companies and driving innovation via onshore and offshore talent